Leggi in italiano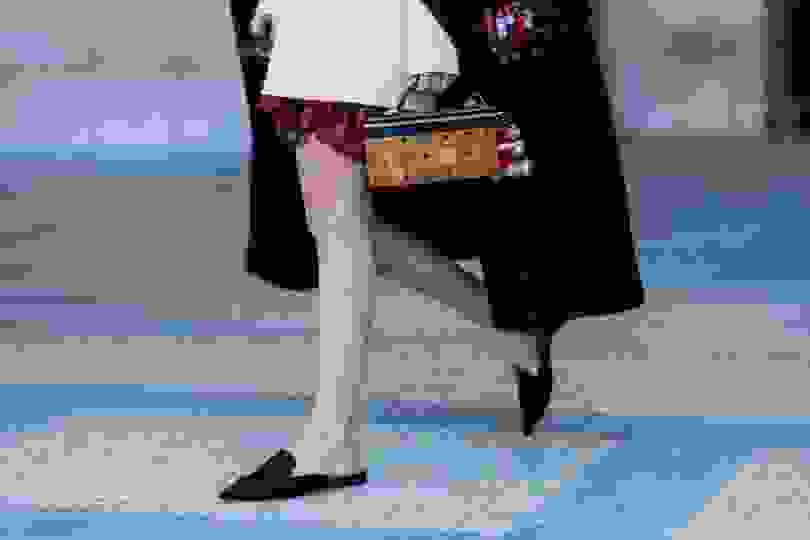 MULES: RETURN TO THE 90'S
THEY ARE COMFORTABLE AND ICONIC. A JUMP INTO THE 90'S FOR THE CONTEMPORARY WOMAN
We are in New York, during the 90's.
Carrie Bradshaw walks in the streets of the Big Mela wearing a basic t-shirt, a high-waisted jeans and a pair of shoes with thin heel and elongated tip.
Well, yes. Walter Benjamin was right when he said: "fashion is just the eternal return of the new".
Today, they changed name and they are one of most dominant trend of the last seasons and the must-have shoes of the moment.
What are we talking about? Of the Mules.
It is a bit shoe and a bit slipper, with high or low heel; they are symbol of comfort for women who do not want to renounce to their style: elegance, comfort and versatility. The Mules, with fringes, feathers, pearls or crystals, have swarmed the catwalks of the most important Italian designers and not only.
Why the people love them? They are easy to match: with a skinny pants or with a boyfriend jeans, there is just one rule, they must be worn with the visible ankle.





Alberta Ferretti


The most important influencers of the world wear the Mia Mule of Alberta Ferretti; they are entirely hand embroidered with silk threads on a base of soft black velvet. They are perfect in many situations: from the classy happy hour to an elegant night.




Gia Couture


This young Florence brand offers a precious and refined model. It is handmade by Tuscan artisans; the Gia Couture mules have a baroque soul, made by super chic garnishes, able to mix itself with the contemporary style of the shape. They are dedicated to modern and nomadic woman.





Giannico


Its shoes play with material combinations preserving the sweet and feminine imprinting. We are talking about Giannico, considered an absolute enfant prodige. Here are his Riri Brighton Mules in a saffron yellow version with contrasting prints in shades of blue and brown. So chic.




N° 21


Alessandro dell'Acqua and his N°21 propose a refined version. White and blue lines for the combination of comfort and style! Perfect both in the daytime with a pair of jeans, and in the evening combined with a silk dress. The bow is a must, a distinctive feature of the brand.





Sanayi 313


Sanayi 313 enhances its models with precious patterns and garnishes, some of them need 36 hours of manual work! Here are a version in double colour, black or white, with a fabric pom-pom. They are artworks, unique and unrepeatable.


Thanks to their chic and full of details taste, a pair of Mules is the perfect choose to not be unnoticed.
© Images copyright: rightful owners.